I dun know...I googled it and came up with this. イカ寿司 sounds like 雷.

Still, I don't know the Utena connection. The Ikazuchi was a Japanese Destroyer ship...if that helps. (According to Wikipedia, they were the most powerful destroyers in the world.) Maybe it is an aposiopesis for "イカすしじゃない。雷です。" Just a thought.

EDIT: I think you were reading the sticker wrong. I went back to look at it, it says イかすじゃない。
Which roughly translates to "Aren't I handsome?" This makes -MUCH- more sense. It's more of a "Don'tcha want me baby?" kind of thing.

Something that is イカす is attractive, charming, charismatic, magnetic, and sexy.
いかすとは、「魅力的」「かっこいい」こと。

Also, because there is no pronoun listed, you could also translate it as "Isn't it/he/she/they hot?"

Just a hunch, but this is probably where the word イケメン comes from...

CENSORED FOR VULGARITIES: [My etymological search has told me they are related. イカす is apparently slang for when a man brings a woman to orgasm. In Japanese, a woman will usually cry "行く" while having sex. "I'm going to come" is usually the expression in English. It other words, it is orgasmic. The pussy is wet. (Sorry to put it in such a vulgar way...) Another source tells me that it became popular in 1958 when the expression was used in a movie by actor Yujiro Ishihara.]

This was really fun to research because I never quite understood the etymological meaning of イケメン. It all makes sense now. I'm also laughing my ass off because that sticker makes it look like Touga is on top.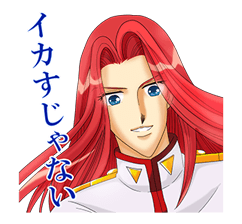 Last edited by barafubuki (07-10-2016 02:58:15 AM)