We often see Miki and Juri hanging out together, they get drawn together often in the official art work,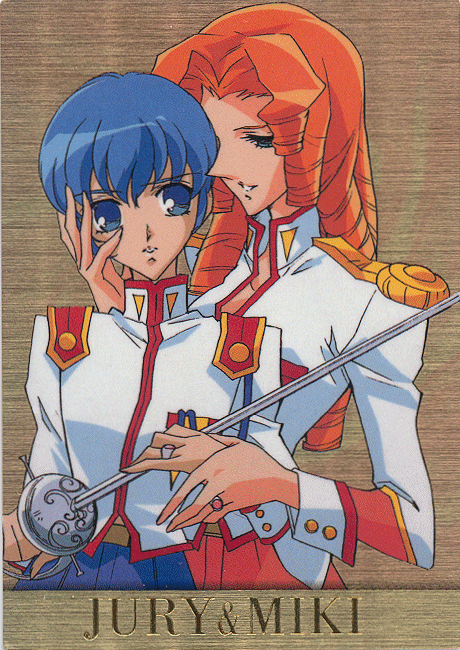 but I just started to wonder, why exactly? They don't particulary have anything in common, apart from being in the student council, and Juri even admits at one point, "even we aren't exactly what you'd call friends." So what are they? They're both, apparently, popular among their peers, yet unlike Touga and Saoinji we never see them with their friends... Miki plays his piano all the time and Juri mooches around looking at her locket. So are they just lonely and using the fact they're both student council members to get a bit of company? I can't help but wonder if Miki suffers from the stigma of being a genius, which although he's respected, alienates him from people, and the same with Juri and her awesome fencing skills (we even see this with Shiori; her resentment of Juri stems from her jealousy of her friend's talent.)

They're not particulary affectionate to one another either- with the notable exception of the garage scene in the movie when Juri leans over and flirts with Miki.




Yes, she's obviously just teasing him, but does this strike anyone as particulary out of character? It's usually Nanami in the series teasing him for his innocence ("Did it hurt?" following the sword-puling scene

) but Juri's doing it here too.

Or is this what subconciously makes Juri gravitate around Miki; his innocence? It's the only explanation I can think of. Certainly, with her dark hidden feelings, its something she'd feel she lacks and it's what makes Miki notable in the cast. (The utena cast? Innocent?

) Even in the first picture I posted Juri looks she's about to seduce Miki and he hasn't even noticed.

What d'ya all think?