As promised! Some new ones, some repeats.



utena: There, there...


utena: What a pain, crying at this hour...
utena: Oh, there, there...
http://i133.photobucket.com/albums/q60/ … -14387.jpg
(Tables OUCHY, this is the pan of the water.)
utena: Chuchu, please, go to sleep already. I'm really sleepy myself.
utena: Huh? Arisugawa-sempai?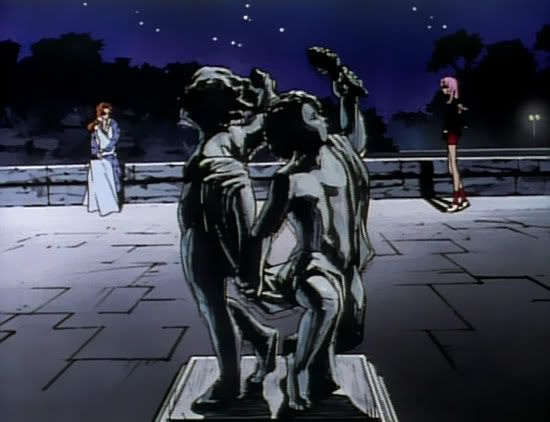 utena: I thought so.
juri: Oh, it's you.
utena: Since you're not wearing your usual uniform, I almost didn't recognize you.
juri: Really?
utena: You really look like a supermodel.
utena: You look gallant in your uniform,
utena: but everyone would be surprised if they saw you this ladylike.
utena: So, why are you here by yourself this late?
juri: You even wear that at night, huh?
utena: Yeah...
juri: Why are you always dressed like a boy?
utena: Well, how should I put it...
utena: To tell the truth, I'm influenced by my prince.
juri: Prince?
utena: When I was a little kid, I met a prince.
utena: And he said "I want that you should never lose your strength and nobility."
utena: And then, as a reminder of our encounter, he gave me this.
utena: "It will lead you to where I'll be," he said.
utena: He looked so cool to me.
utena: I want to see him again.
utena: I mean, I want to become as close to him as I can.
utena: And so, I wear this.
utena: Oh, sorry for telling you strange stories like this...
utena: However, I don't believe the Student Council
utena: about the Rose Bride or the power of miracles, but...


utena: How should I put it... I can believe in the fate between him and me.
utena: If you call it a miracle, maybe it is one, but...
utena: Sempai...?
juri: Your Rose Signet, throw this ring away!
juri: It's disgusting! Your so-called nobility is to copycat as someone you love told you!


juri: Yes, fighting over the Rose Bride
juri: is just as stupid as your sentiment to your prince!
juri: However, to be qualified for that, you must be truly noble!
juri: The Rose Signet doesn't suit a girl the likes of you!
utena: No!
utena: This is my one and only tie with him. I won't lose it, no matter what!