Giovanna wrote:

That said, Akio saw fit to mod his car (LOL PIMP MY RIDE LOL) with a carphone and god knows what else. That's balls, you don't mess with antiques.
Well, he does let them drive through buildings and crash into walls and stuff. He seems to think they grow on trees. >.< Not to mention adding backseats and all. Hey, he COULD have a carphone from back then, just, with a phoneline trailing behind him ala evangelion.

Though people did these things back then too. Like everyone in 63 changing their split rear windows, which are now really rare.

For some reason, Chevrolet REALLY wants us to embrace red seats, as I've noticed an OBSCENE number with them. (I'm sadly guilty of this too. :gonk: )

However, changing the seats and all is SERIOUS BUSINESS. Generally, there's the theory that everything needs to be stock or restored. And then there's the group that wants pimped out. (I am of the restored group.) Driving the car is terrifying, not only for fear of getting it hurt, but most people CAN'T SEE YOU. And if you need to change a panel on the chassis, you can basically kiss its value goodbye. (Repainted varies from person to person.)

The main thing I've noticed driving up Corvette prices is who wants that exact car, which can be history, sentiment, novelty, and of course, the condition.
Like, if all of you were in an auction for C1's, You's all more than likely go after one red with tan seats. What the audience wants usually sells for the most at auctions and such.
(None of these people will drive these cars. And you can't blame them. Also, they're a pain in the ass. All up to the current ones. They're more a hobby that you can conveniently drive.)

Given the status of the car, you can get one really cheap. I got my C4 dirt cheap, cause it had been parked for years, even though everything was original. (WHAT KIND OF BASTARD FILLS A CORVETTE WITH BEES) He's also currently the least popular style. :( (Fortunately, was the one I wanted.) I fixed him up, and now have a gorgeous show piece, who recently turned a classic. (My baby's growing up!) Actually, I almost recently bought a really beat up, cheap C1, but I don't think its the time in my life to do that. Buu.



Actually, I can do better.

Meet Touga.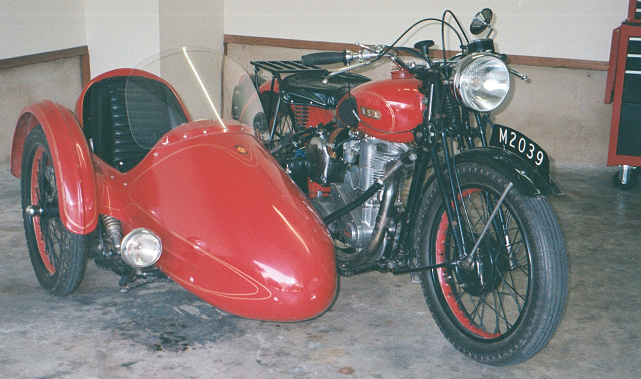 Not really the Touga bike (there's something so... stickly about his.) but I dare you to get closer.

I sold him in highschool, Probably for not nearly enough, to a collector who shows him to the world. I'm glad people get to enjoy him, as I wasn't doing much with him at all. (He was also once in craptacular shape. I'm talking, my mom chewed us out for bringing it home bad shape.)

The shield on the sidecar is new and was put on by us, cause, seriously, you do NOT want to ride in that thing without it. (Yes, we had actually gone lots of places in him.) He was from the 30's and you actually had to kickstart him.

He also had the most comfortable seat in the world (soft leather and springy!) and possibly the most memorable start up growl in the world. I miss my Touga~




(Dios would have a golfcart. DON'T DENY IT.)